Toyota Standard LCV Conversions
Trade Plus conversions are package conversions provided by Toyota Authorised converters.
Innovative storage solutions in association with Bri-Stor Systems Ltd
Racking that will transform the capabilities of your vehicle. 
Lightweight solution compared to wooden racking, using high strength steel 
Weight Saving of up to 30% compared to wooden racking, saving you fuel 
Protects your equipment and materials during transport  
Turns your van into a mobile workshop 
Fully crash tested for maximum safety 
Organises your equipment saving you time 
Toyota Hilux Tipper & Dropside bodies in association with TGS
This lightweight yet rugged aluminium tipping body, designed to fit to the Toyota Hilux Single & Extra Cab pick-up truck making for a great workhorse for use in many different industries. 
Fully type approved with Toyota 5 Year Warranty 
Fully galvanised frames with superior anti corrosion protection 
Black powder-coated gantry with protection infill panel 
Anodised aluminium sideboards with over-centre catches 
Removable corner posts 
PROACE refrigeration conversion in association with CoolKit®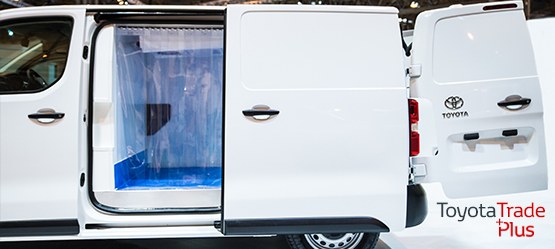 The CoolKit® insulated van conversion provides the best combination of payload, thermal efficiency, strength and waterproofing achievable. 
Insulating materials provide extremely low thermal conductivity (0.025WmK) 
Hardwearing light weight plastic inner surface reinforced with woven glass fibres 
Kit components uniquely interlock to provided unrivalled strength 
Floor edges are laminated in situ for a guaranteed waterproofing across the floor 
Under chassis mounted condenser for less wind resistance and better fuel economy
Toyota Bespoke LCV Conversions
Contact Us
Book A Test Drive